Looney Tunes has always been by far my all-time favorite cartoon series, and having begun in 1934, they have withstood the test of time throughout several generations of cartoon fans. Considering how very few of the early animated series came out of the Golden Age alive and kicking, the fact that the Looney Tunes name is still around says a lot.

Warner Bros. are going to put on their Bunny ears and try their hand once again at the world-famous Looney Tunes series. In February 2011, Warner Bros. plans to release a 26-episode first season of The Looney Tunes Show, wherein Bugs Bunny and Daffy Duck, two much-loved Looney Tooners, live in a suburban home. And their neighbors happen to be none other than other classic characters Yosemite Sam, Tweety Bird, Sylvester the Cat, Marvin the Martian, and Porky Pig.

The new premise might stand up to the new cartoon-loving generation who may not have grown up watching Foghorn Leghorn, Witch Hazel, and the massive cast of the vintage Looney Tunes made for the silver screen series. But, if WB wants to gain the trust of long-time fans of the series like myself, they've got a tough row to hoe.
The first thing I noticed about the new character designs by Jessica Borutski is that they actually reminded me of the art from the old, old Looney Tunes comic books released in the 1940's. When I heard they were doing a new series, the first thing I wondered is if the art would be close to comparable to the old cartoon shorts. So far, my opinion would be yes, the art looks great. Animation has come a long way in a sense, but when you tackle the task of remaking something as classic and unrivaled as Looney Tunes, you're going up against the styles of Chuck Jones, Tex Avery, and Bob Clampett. According to Jessica Borutski's blog, a lot of people are upset that she made Bugs Bunny mauve, and put purple outlines around Daffy. Yes, I would have liked to keep around the old colors, but I think that if done right, it should be barely noticeable. Not only will the new artists be competing with animators of old, but the writers will have something of a challenge ahead to create new situations with gags to bring the laughs that the old series did. The thing with the old series is that the crew were departing on a journey into an art form. Animation was (fairly) new at the time, and the sky was the limit.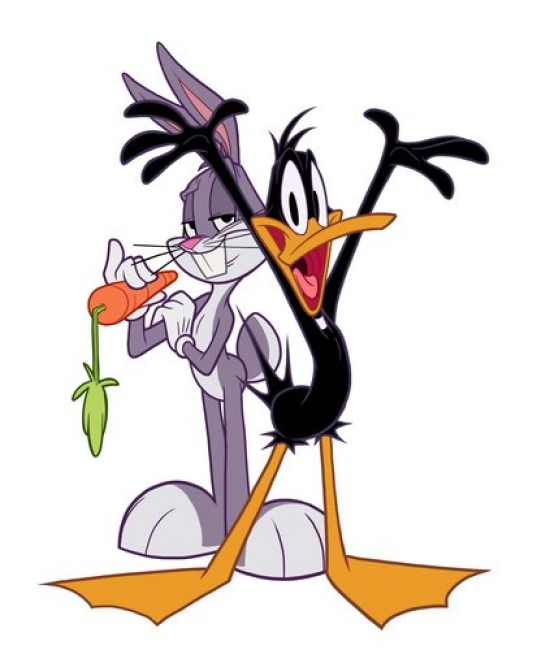 Now here it is 80 years later, and a whole new generation will have to draw on inspiration from a different society and make different stories work with characters who were created decades ago, pleasing die-hard fans and television-affixed kids alike.
And then there's the Wile E. Coyote/Roadrunner bit. It seems Warner Bros. has decided to convert them to 3-D animation for a 2 1/2 minute short in each episode, and a 3 minute short before some movie features in the theaters. I don't know about you, but they appear to me to be testing the waters with the 2-D loving crowd for possible 3-D series or movies in the future. Corporations are slick like that, you know. And, though 3-D animation can be a beautiful art form given the right talent, character design, director, etc., I would rather them leave the characters rendered at least similar to how they were originally created. I'm sure Ben "Bugs" Hardaway and Cal Dalton didn't envision Bugs in full massive  3-D with stubble, zits, and boogers. The LT characters should be remembered as what they were created as. Go changing that, and I can go changing the Mona Lisa, or Michelangelo's Sistene Chapel paintings. They're dead, they won't care if I put a fuchsia bra on Moses. Nyaa! No, they won't, but you can bet there will be a lot of people out there who will. Now, if they were to get new directors and designers to create a new set of characters in the spirit of Looney Tunes but not a rip off of the old characters (*ahem* Babs and Buster), I'd be interested in seeing how that turned out in 3-D. I admit, the stills I've seen of the Wile E. shorts are impressive, so perhaps they will capture the spirit of what the characters were all about, even though they will be rendered a little more realistically than we are used to. But, I guess we'll see in a few months, eh?
The name "Merrie Melodies" also comes into play in the new television series, as WB has decided to throw in another cartoon short with the same title as the old Looney Tunes counterpart series where "The Tasmanian Devil, Speedy Gonzales, Marvin the Martian and other classic characters" sing original songs in 2-minute music videos.
Hopefully the series will live up to the Looney Tunes name, and our generation will have its very own contribution to the legendary series. So, unless Warner Bros. makes a left toin at Albuquerque, The Looney Tunes Show may turn out to be promising indeed!