Though we may know of at least one insanely popular cartoon rabbit, it turns out that bunnies are not the most common cartoon protagonists. However, the furry little guys do make some great cartoons, so I have decided to compile a list of the top 10 cartoon bunnies. So, here they are, folks:
10. Baby Bugs (Baby Looney Tunes) - As a baby, Bugs had some of the same mannerisms, but apparently Granny forgot to give him a bottle because he tended to be a little bossy at times. This could sometimes cause some tension with Babs and Daffy, but just like he always has, Baby Bugs always knew the right thing to do in the end.
9. Buster Bunny (Tiny Toons) - The leader of the Tiny Toons, Buster is also shown as a talented drummer and electric guitarist. He has many characteristics of the famous Bugs Bunny. He has to deal with the many challenges of school life, which I think we can all relate to in some way.
8. Babs Bunny (Tiny Toons) - Babs is Buster Bunny's counterpart in the Tiny Toons series, and she has the uncanny ability to impersonate others. She sometimes displays a fiery personality, oftentimes when agitated by Plucky Duck. She often impersonates actors and celebrities, and she has been known to impersonate the next Rabbit on our list: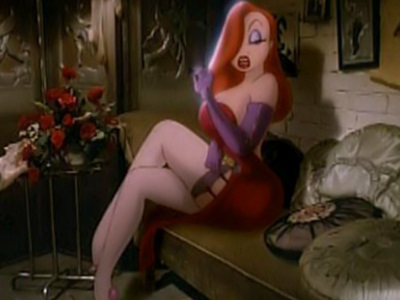 7. Jessica Rabbit (Who Framed Roger Rabbit) - Okay, she wasn't technically born a rabbit, though she married into the family so that is qualification enough for her to make the list. The wife of Roger Rabbit, Jessica is the sultry singer who works at the Ink and Paint club, and a primary suspect in framing Roger for murder. She left her mark with the famous quote, "I'm not bad, I'm just drawn that way."
6. Rabbit (Winnie the Pooh) - Rabbit is the kind of guy who likes to take charge and build elaborate plans, which tend to fall apart because of an oversight on his part. Though he seems like the kind of rabbit that likes to nag and complain, Rabbit really does value his friendship with Pooh and Piglet. Deep down, he's a pretty cool guy.
5. Roger Rabbit (Who Framed Roger Rabbit) - Probably the only rabbit on the list shown to imbibe alcohol, Roger is quite the erratic rabbit, and it shows even in his voice. A true cartoon, Roger is a 1940's cartoon film star, alongside Baby Herman. Plus, he had his own brief comic book series, so Roger proves himself as one of the top cartoon rabbits.
4. White Rabbit (Alice in Wonderland) - We all remember the song he sang: "I'm late! I'm late! For a very important date! No time to say hello, goodbye! I'm late! I'm late! I'm late!" White Rabbit was probably the only character in Wonderland who made ANY kind of sense at all. But even so, nothing in Wonderland made any sense so he found himself caught in the middle of chaos almost all the time. His voice is one of the most memorable of the Disney movie, which helped him climb the list to #4.
3. Oswald the Lucky Rabbit - Oswald started out in his own Ub Iwerks/Walt Disney cartoon series in 1927.  He is a courageous and adventurous soul. Oswald has recently resurfaced and gained ground as one of the world's favorite video game characters, fighting alongside Mickey Mouse in the multi-platform hits, Epic Mickey and Epic Mickey 2. When he was first created, he was in direct competition with Felix the Cat and Koko the Clown, but we all know who the best of the bunch turned out to be!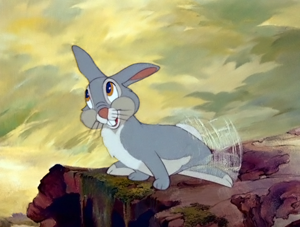 2. Thumper (Bambi) - Admit it, if Thumper wasn't your favorite character from the movie "Bambi," he was most certainly at the top of the list. Trying to make sense of the world, he follows and often states advice from his mother. When he gets excited, he thumps his left foot. The characterization of this little fellow is enough to really draw kids and even adults to him. If I had a pet bunny, I would definitely want him to be like Thumper.
1. Bugs Bunny - If you don't know who Bugs Bunny is by now, go and watch some Bugs Bunny cartoons before you even finish the rest of this sentence! Bugs got his name from his co-creator, Ben "Bugs" Hardaway, and made his debut in Porky's Hare Hunt. Bugs always keeps his cool, and outsmarts his antagonist. He has a plethora of memorable sayings, such as "Of course you realize, this means war!" Bugs has appeared in countless cartoons, video games, and movies and still remains the most famoust rabbit in the world after over 75 years!